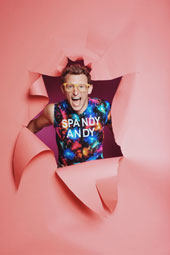 Spandy Andy's Dance Party
Spandy has brought his whirlwind entertainment to us in each of 2018 and 2019. Now he sends the same for our virtual 20th anniversary festival.
Spandy Andy will leave you bewildered with his zany dance moves, quirky personality and vibrant outfits. Carrying around a stereo blasting dance music, Spandy Andy is sure to get any party started. With over 300 million video views online, Spandy's ultimate goal is to spread happiness across the globe. Spandy Andy's high-energy performances are guaranteed to have you grinning ear to ear. WARNING: this boy's smile is infectious!
FACEBOOK | @spandyandyfanpage
TWITTER | @spandyandy
INSTAGRAM | @spandyandy #spandyandy