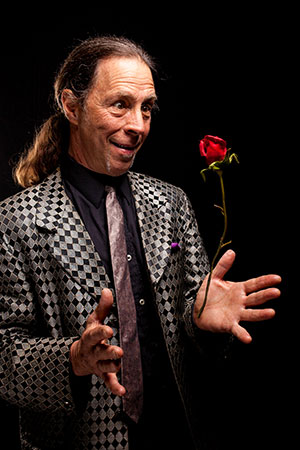 Magical Mystical Michael
(USA)
Michael Kaufman first came to Grande Prairie in 2011 and joins us this year for the 3rd time.
Michael was born in the Bronx. As a young adult presented with profound choices, college or Viet Nam, he opted for college. Degree in one hand and outstretched thumb in the other, he hit the road in search of himself. Two years later, running out of thumb, he accidentally changed his life forever by purchasing a magic trick. After he mastered his first trick (color changing handkerchiefs), his brother surprised him on his 24th birthday with a set of linking rings. For the next 3 days it was the mirror, the rings, 2 pizza boxes and the instructions. Now, with a few more tricks up his sleeve, cocky, confident and 24, he hit the street to see if this new-found craft could pay the bills. Indeed, a career was born!
He traveled from coast to coast, from the streets into the living room, from festivals into the theater, from cruising the seas to exploring Hawaii, Alaska, the Thai Islands also Canada, Mexico, Europe and hiking through the Himalayan Mountains. Michael has touched the lives of those who might never have experienced such magical moments.
Now, many, many and many, many years later, still traveling the world, he is truly the master of his own enchanted existence and makes his home in Austin, Texas.
WEBSITE | https://magicalmysticalmichael.com