Welcome from the Festival Committee
Welcome to our 21th Festival! We are so excited to be able to go LIVE ! With a scaled down and socially distanced concept.
As of July 22 in the afternoon we were able to change an important part of our festival back to the way we have always been. Now, all unreserved spots at each performance are available on a first come first served basis. There will be limit of 150 people at each performance. At the end of each performance the performers will be asking for a free will donation, just like they have always done.
The reserved spots will still be in place.
People will be asked to remain seated during the 45 minute performances. Between performances people can leave their spot to purchase items from the food trucks and other merchants.
Everyone must bring their own lawn chairs.
Thank you to the performers who are going to entertain you LIVE!
Special thanks for support from our presenting sponsor, ATB Financial for the 21th year in a row! As always, we thank the Edmonton Street Performers Festival, all our funders and sponsors, our volunteers, and you – the people who make our festival a popular success year after year! Enjoy the Festival and come back often.
On May 16, 2021 we lost our Co-Chairman, Clyde Blackburn. We dedicate this 2021 Festival to our friend, Clyde. We miss you.
Wayne Ayling & Wendy Bosch
Co-chairs
Grande Prairie International Street Performers Festival Association
In memoriam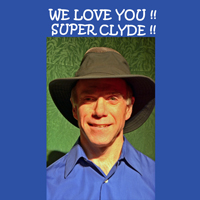 Clyde Blackburn, June 9, 1953 - May 16, 2021
The Festival Committee, volunteers and Street Performers around the world morn the passing of Co-Chairman Clyde Robert Blackburn. Clyde dedicated many hours each year to improving and running successful festivals. Over the years he made friends with many Street Performers from all over. To Mary, sons Robert, Michael, and David we express our condolences. We know your loss is great. Clyde was connected to the Grande Prairie Community in many ways. He was a community leader as a Councilor on the City of Grande Prairie Council, as a Public School Board Chair and Trustee, as a Director and Actor at Grande Prairie Live Theatre, as a Scout Leader and in many other ways. Clyde may you rest in peace! We will miss you, always!