Welcome from the Festival Committee
We are very excited to bring you the 23rd Annual Grande Prairie International Street Performers Festival. Featuring Noon Performances at Wembley Tuesday July 18, Beaverlodge July 19, Sexsmith July 20. The full festival runs in the Grande Prairie City Centre Friday July 21 @4:30-9:45 pm, Saturday July 22, @ noon-9:45 pm, and Sunday July 23 @ noon-6 pm.
CN Rail is the Saturday Sponsor. Thank you CN Rail for making Saturday so Special!
The Grande Prairie Tourism Association is sponsoring Friday's Festival. Thanks to this great group of so many of our local and regional tourist businesses.
Thanks to the Town of Wembley, Town of Beaverlodge, Town of Sexsmith and the Sexsmith Elks for sponsoring the noon performances and free noon lunch for everyone attending these shows in their towns.
The festival wraps up with a special giant circle show at 5 pm on Sunday July 23 featuring all performers!
The new version of the Street Fest Frolic is a ticketed event at the KMSC Law Performing Arts Theatre Thursday July 20 starting at 6pm with drinks and a tasty supper. Followed by special performances by the performers plus free face painting and balloon twisting.
World class Street Performers! Balloon Twisters! Food Trucks!
We are so thankful for the support all our sponsors! Our volunteers are awesome, dedicated and amazing! Thank you Volunteers!
Our 23rd Annual Festival will be FUN, FUN, FUN for all ages!
See you on the street!
Wayne Ayling & Wendy Bosch
Co-chairs
Grande Prairie International Street Performers Festival Association
In memoriam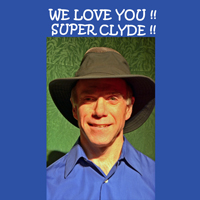 Clyde Blackburn, June 9, 1953 - May 16, 2021
The Festival Committee, volunteers and Street Performers around the world morn the passing of Co-Chairman Clyde Robert Blackburn. Clyde dedicated many hours each year to improving and running successful festivals. Over the years he made friends with many Street Performers from all over. To Mary, sons Robert, Michael, and David we express our condolences. We know your loss is great. Clyde was connected to the Grande Prairie Community in many ways. He was a community leader as a Councilor on the City of Grande Prairie Council, as a Public School Board Chair and Trustee, as a Director and Actor at Grande Prairie Live Theatre, as a Scout Leader and in many other ways. Clyde may you rest in peace! We will miss you, always!